The Higgins Bedford, Panacea Museum and John Bunyan Museum are celebrating British Science Week with a range of free family-friendly science, technology, maths and engineering activities on Saturday 11 March.
The event's theme is 'Connections,' and the activities will celebrate the connections between Bedford's town centre museums and Bedford's significant engineering heritage.
Activities across the three museums will include electric circuit-making, science demonstrations, animal encounters and art workshops.
Councillor Doug McMurdo, Portfolio Holder for Culture and Leisure, said, "It is great to see our local Museums in Bedford celebrating British Science Week. This is a fantastic opportunity for local families to enjoy free science, technology and art based activities, so please come along and get involved."
The Higgins Bedford will be holding electric circuit-making workshops, provided by Bourns. Visitors will have the opportunity to learn more about these, and view the semi-conductors close up. Bedford Modern School will be in The Higgins Bedford foyer and courtyard conducting exciting science demonstrations and hands-on activities that include lasers, a plasma ball and microscopes. Little Science Lab will be bringing dry ice volcanoes, and visitors will also be able to explore geology with Bedfordshire Geology Association.
At the Panacea Museum, families can meet and greet some amazing animals with Teaching Talons and find out more about the River Great Ouse with the Bedfordshire Great Ouse Valley Environmental Trust.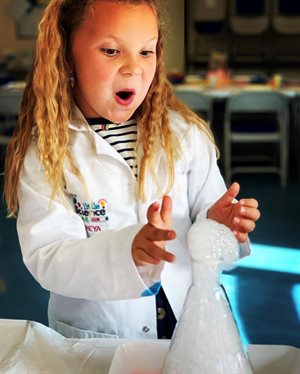 At John Bunyan Museum, workshops include making some fun felt sushi models with artist Anne-Marie Abbate and visitors can enjoy Ebru (marbling) masterclasses with Art School Tsymbal. There will also be a new trail on the theme of 'Connections' that visitors can explore.
The events are supported by Bedford's Town Centre Priority Fund and with support in kind from Bourns, Bedford Modern School, Bedfordshire Geology Group.
More information about the exciting plans for Science week can be found at www.thehigginsbedford.org.uk.