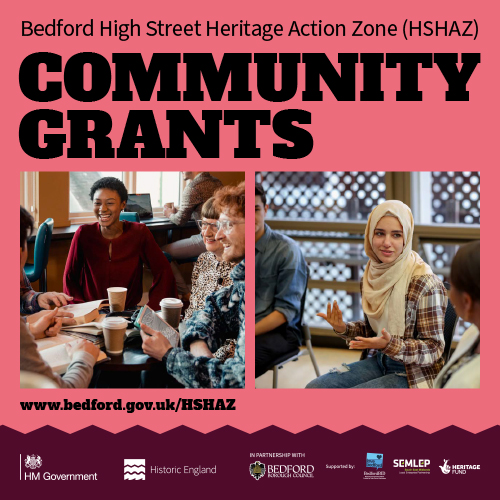 Bedford Borough Council is inviting small businesses, community interest groups and non-profit organisations to bid for funding as part of the High Street Heritage Action Zone scheme.
The grant funding, of up to £1,500 per project, will allow groups to run events and activities that bring people together to celebrate heritage and Bedford's High Street. For example, projects could be expressed through various creative forms and mixed media such as creative workshops, arts & crafts, storytelling, music & dance, audio & film or cookery sessions.
Organisations that bid for funding will need to explain how their plans will enable people in the local community to learn more about the heritage and history of the town and our communities.
Councillor Henry Vann, Portfolio Holder for Town Centre and Planning, said: "The Community Grant Scheme is about supporting community groups, businesses and non-profit organisations and others to share the story of Bedford High Street. There's a great deal to learn about our local heritage and history and we've seen that there's a huge appetite from residents and visitors to find out more.
"From workshops to performance, we want to hear your creative ideas for commemorating Bedford High Street and the many, varied histories of the people of Bedford."
Businesses, community groups and non-profit organisations that apply to the scheme can submit more than one project idea.
Applications are open until Friday 16 September 2022.
You can find out more about the scheme and submit an application by visiting www.bedford.gov.uk/HSHAZ.