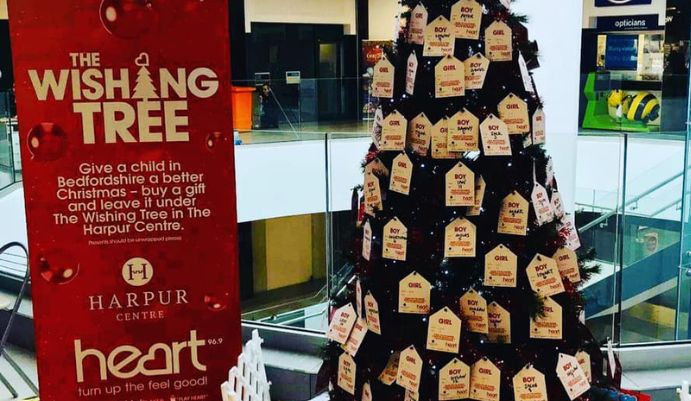 From 18th November, make someone else's Christmas extra special this year with the Wishing Tree at Harpur Centre.
Whilst shopping for presents at the Harpur Centre, staff are asking if you can add an extra present to your basket for the Wishing Tree, to make a child's Christmas Day extra special.
All gifts kindly donated to the Wishing Tree will be distributed across the county by organisations that support underprivileged and less-fortunate children and families, and will be delivered in time for Christmas Day, to ensure everybody has something to open.
How does the Wishing Tree work, you might wonder – shoppers are asked to head to the Tree in the Harpur Centre, select a 'Boy' or 'Girl' gift tag, choose an appropriate gift from a retailer at the Centre, attach the gift tag to the gift (please ensure this is unwrapped), then drop the gift at the tree by Thursday 21st December when the donations close.
Volunteers at the organisations will then wrap the gifts once donations have closed and distribute the gifts across the county.
Samantha Laycock, Centre Manager at the Harpur Centre, commented:
"The Wishing Tree is a returning community initiative which we are so proud to have again here at the Harpur Centre. It's important now more than ever to make sure everybody has a happy Christmas."