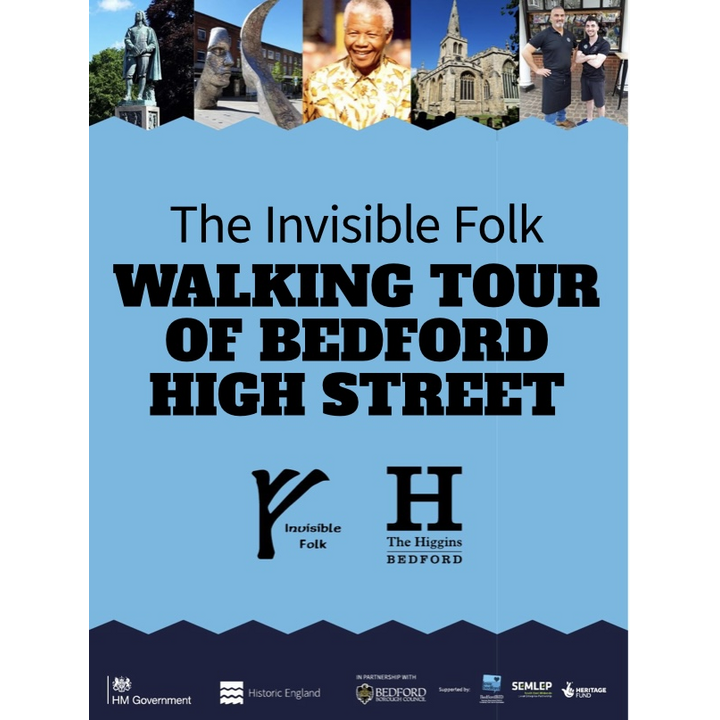 Invisible Folk and Bedford Borough Council are inviting people to take a journey into Bedford High Street's rich heritage.
This exciting new scheme, launched today as part of the High Street Heritage Action Zone, runs in partnership by Bedford Borough Council and Historic England invites people to discover some of the untold stories of Bedford High Street through a free virtual walking tour. The stories are told by local historic figures and residents who lived through and experienced the events.
Much of history rarely tells the story of marginalised groups. This walking tour aims to give voices to members of these communities and provide the chance for them to tell their story.
Tours will last approximately 45 minutes and stop at some of the High Street's key locations to talk about the history behind them. Tour locations include the John Bunyan statue, the site of the former taxi rank for the story of Joe Clough, the Silver Street faces, the Trevor Huddleston bust, Bedford Market, St. Paul's Church and finally La Piazza.
Councillor Henry Vann, Portfolio Holder for Town Centres and Planning for Bedford Borough Council, said: "This is an exciting addition to the High Street Heritage Action Zone and Invisible Folk have done a brilliant job bringing this piece of work together. Their new virtual walking tour helps to give voices to both prominent and lesser-known figures in the local area.
"There is a lot to learn on this illuminating walking tour, so come and step into Bedford High Street's history."
Jon Bickley, Director at Invisible Folk, said: "Invisible Folk were delighted to give a voice to the people of Bedford; their pride in their town came across strongly. We heard many interesting stories from a range of backgrounds and communities. We want to hear more!"
Tony Calladine, East of England Regional Director, Historic England, said: "It's great that the Bedford High Street Heritage Action Zone Cultural programme is sharing stories of Bedford people in such an engaging way. I'm particularly delighted that, through this walking tour, the voices of local people are being heard alongside more famous Bedford residents. I'm really looking forward to hearing the tour."
This free tour is self-guided, meaning anyone with a smartphone or tablet can take part at a time that suits them. Free printed maps are also available at The Higgins Bedford, although they are not essential for taking part in the tour.
With Bedford River Festival taking place this month on Saturday 23rd and Sunday 24th July, why not stop by Bedford High Street and learn more about the historic town's heritage?
If you'd like to take part in the tour, please visit https://www.izi.travel/en/d94d-the-invisible-folk-walking-tour-of-bedford-high-street/en.
To find out more about the High Street Heritage Action scheme go to www.bedford.gov.uk/HSHAZ.